The fascination with macro photography can quickly capture one's imagination, because nowhere in nature photography is there as much unknown to discover as in the close range. In macro photography, one can also achieve success with relatively low financial effort. If you do not aim for quite specific motifs, you should find promising places that are usually not far from your home and are ideal for macro photography.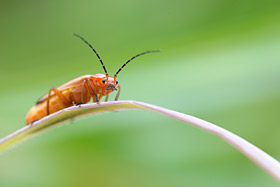 As my nature photo workshops assume the basics of photography, I would like to limit the technical part to the things I have used myself and only briefly mention that there are also other technical aids, such as close-up lenses, extension tubes, bellows, retro adapters and magnifying lenses. Presenting all these devices and techniques would also exceed the scope of this workshop!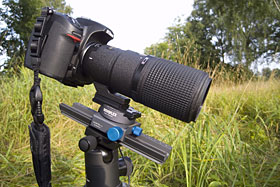 Many photographers who start with macro photography focus on having the subject depicted with a sharp focus and in a large depth of field. I also started this way at some point, but only later realized that this approach often produces boring images. Image composition is also a matter of taste, so I would like to explain only my personal vision of good image composition below.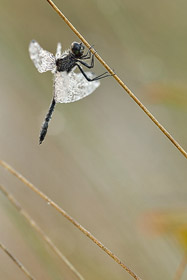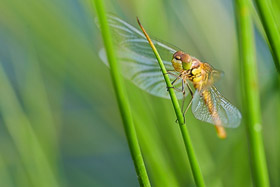 Photographing insects in flight is one of the most challenging tasks in macro or close-up photography. A large dragonfly is not only a beautiful subject, but also a manageable task for the photographer due to its size.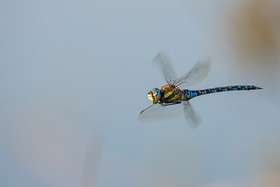 My macro shots often occur in the early morning hours, as the light before sunrise is often best for macro photography. Another advantage for the early hours is that there is less wind before sunrise, as wind often increases after the sun rises. In close-up and macro photography, wind is the worst enemy, as even the slightest gust causes blurry images if the subject is on small branches, flowers, or blades of grass. Even if you hardly notice the wind, the effects will become clear in the 100% view from the live-view monitor at the latest.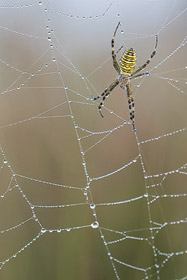 To mitigate the blur caused by wind, I try to wait for a moment with minimal wind. At the same time, I take a series of shots and usually some of them come out sharp. You can also increase the ISO to shorten the exposure time. There are also technical aids such as sticks to stabilize grass or wind shelters to drape over the subject. However, I don't hold these aids in high regard as they often prove to be not practical in practice. For a subject like a wasp spider in a web, both of these aids would quickly reach their limits. Sometimes, there's no other choice but to try the subject again on another day.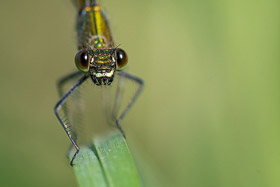 In macro photography, a stable tripod should always be present, even if you take some pictures hand-held. Some macro lenses have built-in stabilizationization, but in my experience, almost every subject can be captured as well with a tripod. With a tripod, you often need a little more patience to achieve success, but the results are usually better than hand-held shots, as even the slightest shake can have a negative impact on the results in macro photography. In addition to the tripod, I like to use a macro slider to adjust the exact focus with the movement of the slider. Otherwise, I use small mini reflectors to brighten the subject, and that's it for my equipment accessories.
(back to the beginning)
written: November 2014, (author: Olaf Juergens)
updated: August 2018
 print version